BIOGRAPHY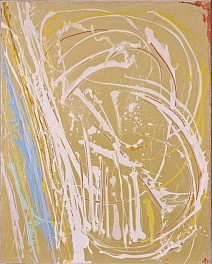 American, 1942-2007
Among America's leading abstract artists, Dan Christensen was devoted over the course of forty years to exploring the limits, range, and possibilities of paint and pictorial form. Although his art belongs within the category defined by the influential art critic Clement Greenberg as Color Field or Post-Painterly Abstraction, he both carried on the legacy of this approach while stepping outside of it, through drawing from a wide variety of Modernist sources, using many idiosyncratic techniques, and employing methods more commonly associated with the action painting techniques of Abstract Expressionism. The result is a distinctive body of artwork that is original, surprising, and filled with joy, exuberance, and pleasure in the act of painting.
Born in Cozad, Nebraska, in 1942, the son of a farmer and truck driver, Dan Christensen chose to become an artist when, as a teenager, he saw the work of Jackson Pollock on a trip to Denver. After receiving his B.F.A. from the Kansas City Art Institute, Missouri, in 1964, he moved to New York City. His "spray loop" paintings, produced by using a spray paint gun, were a fascinating embodiment of the reductive abstract tendencies in 1960s American art, and of the interest of the time in innovative applications of new techniques. With their powerful ribbon-like configurations, and shimmering allover surface effects, these works won the attention of Greenberg, who became an enthusiastic supporter of Christensen's art.
Dan Christensen had his first solo exhibition in New York in 1967. Two years later he was given his first one-person show at the Andre Emmerich Gallery, joining this important showcase for color-field painting, where works by artists such as Kenneth Noland, Jules Olitski, and Helen Frankenthaler were also shown. Christensen soon started to be invited to participate in major museum shows, including the Whitney Annuals in New York and the Corcoran Gallery's Biennials, in Washington, D.C. From the 1970s until his death in 2007, Dan Christensen was unrelenting in his exploration of new techniques as well as in his return in new ways to treat forms that had held his attention in the past.
In 2001 the unique approach to line and shape of Dan Christensen was highlighted in the survey of his art held at the Butler Institute of American Art, Youngstown, Ohio. He received several awards, including a National Endowment Grant, 1968, a Guggenheim Fellowship Theodoran Award, 1969, a Gottlieb Foundation Grant, 1986, and a Pollock-Krasner Foundation Grant, 1992.
EDUCATION:
1964, Kansas City Art Institute, BFA, Kansas City, MO
PUBLIC COLLECTIONS:
The Butler Institute of American Art , Youngstown, OH
Eversen Museum of Art , Syracuse, NY
The Albrecht Art Gallery , St. Joseph, MO
The Albright-Knox Gallery , Buffalo, NY
The Museum of Fine Arts , Boston, MA
The Art Institute of Chicago , Chicago, IL
The Dayton Art Institute , Dayton, OH
The Denver Museum of Art , Denver, CO
The Edmonton Art Gallery , Alberta, Canada
The Fine Arts Museums of San Francisco , San Francisco, CA
The Greenville County Museum of Art , Greenville, SC
The Solomon R. Guggenheim Museum , New York, NY
The High Museum , Atlanta, Georgia
The Hirshhorn Museum and Sculpture Garden , Washington, D.C.
The Houston Museum of Fine Arts , Houston, TX
The Indianapolis Museum of Art , Indianapolis, IN
The Johnson Museum of Art, Cornell University , Ithaca, New York
The Kemper Museum of Contemporary Art , Kansas City, MO
The Ludwig Collection in the Wallraf-Richartz Museum , Cologne, Germany
The Metropolitan Museum of Art , New York, NY
The Museum of Art , Fort Lauderdale, FL
The Museum of Contemporary Art , Chicago, IL
The Museum of Modern Art , New York, NY
Nelson-Atkins Museum , Kansas City, MO
The Robert Rowan Collection , Pasadena, CA
St. Louis Art Museum , St. Louis, MO
The Seattle Art Museum , Seattle, WA
The Sheldon Memorial Art Gallery, University of Nebraska , Lincoln, NE
The Telfair Museum of Art , Savannah, GA
The Toledo Museum , Toledo, OH
The Whitney Museum of American Art , New York, NY
AWARDS:
1992, Pollock-Krasner Foundation Grant
1986, Gottlieb Foundation Grand
1969, Guggenheim Fellowship Theodoran Award
1968, National Endowment Grant
SELECTED SOLO EXHIBITIONS:
Noah Goldowsky Gallery, New York (Richard Bellamy, Curator), 1967, 1968
Andre Emmerich Gallery, New York, 1969, 1971, 1972, 1974, 1975, 1976
Nicholas Wilder Gallery, Los Angeles, Ca. 1970,1972
Galerie Ricke, Cologne, German, 1968, 1971
Edmonton Art Gallery, Edmonton, Alberta, 1973
Greenberg Gallery, St.Louis, Mo., 1974
Rothman's Art Gallery, Stratford, Ontario, Canada, 1974
Jared Sable Gallery, Toronto, Ontario, Canada, 1974
Watson/de Nagy Gallery, Houston, Tx., 1976
Douglas Drake Gallery, Kansas City, Mo., 1976, 1978, 1979, 1980, 1981, 1982, 1884, 1987, 1988, 1991, 1994
B.R. Kornblatt Gallery, Baltimore, Md., 1977
Meredith Long Contemporary Gallery, New York, 1978,1979, 1980
Meredith Long and Company, Houston, Tx., 1978, 1980, 1981
Gloria Lurie Gallery, Miami, Fla., 1978, 1981, 1989
University of Nebraska at Omaha Art Gallery, Omaha, Ne., 1980
Salander O'Reilly Galleries, Inc., New York, 1981, 1982, 1983, 1984,1991, 1999, 2000
Ivory/Kimpton Gallery, San Francisco, Ca., 1982
Lincoln Center Gallery, New York, 1983, 1984, 1987
Edwin A. Ulrich Museum of Art, Wichita State University, Wichita, Ks., 1984
Ruth Vered Gallery, East Hampton, New York, 1989, 1990, 1993
ACA Galleries, New York, 1993
Gallery ISM, Seoul, Korea, 1994
Jaffe Baker Blau Gallery, Boca Raton, Fl., 1995
Dorothy Blau Gallery, Bay Harbor Islands, Fl, 1998, 2001
Butler Institute of American Art, Youngstown, Ohio, Dan Christensen: A Forty Year Survey, 2001-2002
Parrish Art Museum, Southampton, New York, Selections From A Retrospective, 2002-2003
Ed Thorp Gallery, New York, Dan Christensen: Re/View, 2004
Skot Foreman Gallery, Atlanta, Ga., Dan Christensen: A Survey of Paintings and Graphics, 2005
Spanierman Modern, New York, Dan Christensen, 2007
LewAllen Contemporary, Santa Fe NM, 2007
Elaine Baker Gallery, Boca Raton, FL, Dan Christensen, 2008
Kemper Museum of Contemporary Art, Kansas City, MO, Dan Christensen: Forty Years of Painting, 2009
Sheldon Museum of Art, Lincoln, NE, Dan Christensen: Forty Years of Painting, 2009
Spanierman Modern, New York, NY, Dan Christensen: The Plaid Paintings, 2009
Lew Allen Galleries, Santa Fe, NM, Dan Christensen Lyrical Spray Canvases: 1960s to the 1990s, 2009
Spanierman Modern, New York, NY, Dan Christensen: The Stain Paintings, 2011
Spanierman Modern, New York, NY, The Armory Show-Dan Christensen, 2011
LewAllen Galleries, Santa Fe, NM, Dan Christensen-Bars and Scrapes, 2011
Spanierman Modern, New York, NY, Dan Christensen: The Early Sprays: 1967-1969, 2012-2013
LewAllen Galleries, Santa Fe, NM, Dan Christensen: The Orb Paintings: 1992-1996, 2013
Spanierman Modern, New York, NY, Dan Christensen: Sprays and Stains, 2014
LewAllen Galleries, Santa Fe, NM, Dan Christensen: Atmospherics, 2015
Berry/Campbell, New York, NY, Dan Christensen, 2015