BIOGRAPHY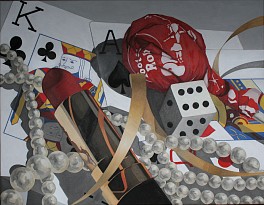 American, b. 1971
Daryl Zang graduated from Syracuse University with a BFA in painting. It was there that she developed a great love of figurative painting and furthered that study in Florence, Italy. After graduation, the artist gained valuable knowledge of the time honored techniques and materials used by traditional artists while working in an art conservation studio. She returned to her own painting full time after the birth of her first son and created a series of motherhood paintings based on her own experience and full of personal emotion. These paintings were noticed by the curator of the Michele and Donald D'Amour Museum of Fine Art in Springfield, MA and in 2010 the artist was awarded her first solo museum show there.
The themes with which this artist paints continue to be based on womanhood and femininity but also include her experiences raising 2 boys. This personal journey was the subject of two of her last solo exhibitions. "Becoming", on display at St. Peter's Church, Lexington Ave., NY, and "Renewal", hung at The Bing Art Center in Springfield MA.
Daryl Zang has most recently found great success within the Women Painting Women movement. Her work was chosen to be included in shows at both Principle Gallery in Charleston SC and RJD Gallery in Sag Harbor NY, proudly earning her a mention in Art Collector Magazine.
The paintings Daryl Zang creates have also been shown at the Salamagundi Club in NYC, Gallery 350 at The Illinois Institute of Art Chicago, Gallery 137 in Indian Orchard MA, and Elisa Contemporary Art Gallery in Riverdale NY. Additionally, Zang has been a featured cover artist for Ink Publications, a magazine dedicated to fine living in Connecticut.
ARTIST'S STATEMENT:
"The images I create reflect my own experiences and I often describe my work as autobiographical. At home as a new mother I painted about pregnancy and the early stages of motherhood, focusing on all the ambivalence, isolation, and exhaustion as well as the tenderness. When it was rest I needed most, my work became about private, restful moments and quiet relaxation. As my children grow, I find endless inspiration in them. By letting them guide me, I have shifted priorities and let myself get lost in their world. As I re-learn how to play, my work reflects some of the simple pleasures of childhood.
Although my paintings address deeply personal moments, I create honest images that resonate with people at all stages of life. I find it incredibly gratifying when a viewer sees themselves reflected in one of my paintings. The stories that my images often elicit validate my belief in my work and fuel my enthusiasm for painting."
EDUCATION:
Syracuse University, Syracuse, NY – BFA 1993
SELECTED GROUP EXHIBITIONS:
2017, Contemporary Still Life, Cavalier Galleries, March 20 – April 28
2016, Principle VI, A Comprehensive Collection of Six Principle Gallery Artists, Principle Gallery
2015, The Tales We Tell Together, Women Painting Women, RJD Fine Arts Gallery, October 9-November8
Face It: The face in Contemporary Art, On Site: Brooklyn, June 6 – July 11
2014, Women Painting Women,RJD Fine Arts Gallery, October 11 – November 11
Women Painting Women, Principle Gallery, September 5
CT Women Artists, 85th Annual Juried Exhibition, The Slater Memorial Museum, August 30 – September 26
Contemporary Realism, NY Project 3W57, Cavalier Galleries NY, NY, April 7 – April 30
2012, Gifted, Elisa Contemporary Art, November 11-January 14
2011, The Human Spirit, Elisa Contemporary Art, September 9 – November 5
Splash: An Artistic Celebration of Sun, Sand, and Surf, Elisa Contemporary Art, May 15 – July
2010, Reflections: Modern Images and Timeless Portraits, Elisa Contemporary Art, September 24 – November
2007,The Feminine Mystique, Gallery 137, September 7 – October 20
57th Annual National Exhibition of Contemporary Realism in Art
American International College, April 8 – May 18
Contemporary American Realism, Gallery 137, April 14 – May 19
2006, The Human Form: National Juried Exhibition, The Illinois Institute of Art, Gallery 350, July 31 – September 6
56th Annual National Exhibition of Contemporary Realism in Art, First Church Gallery, April 23 – May 12
2005, Annual Juried Painting and Sculpture Exhibition by Non-MembersSalamagundi Club, June 20 – July 1
2004, Art of New England, Lyme Art Association, July 10 – August 21
SOLO EXHIBITIONS:
2014, Renewal, The Bing Art Center, March 7 – May 31
2013, Becoming, St. Peter's Church, August 28 – October 10
Paintings by Daryl Zang, Michele & Donald D'Amour Museum of Fine Art, 21 Edwards Street, January 19 – April 4 2010
FAIRS:
2011, The Affordable Art Fair, Elisa Contemporary Art, 7 West 34th Street, May 5 – 8
2010, Red Dot Art Fair, Cavalier Galleries, November 30 – December 5
COLLECTIONS:
The Bennet Collection of Women Realists
San Antonio, TX
Gallery Representation
Cavalier Galleries
Greenwich: 203-869-3664
New York: 212-570-4696
Nantucket: 508-325-4405
art@cavaliergalleries.com
Contacts: Ron Cavalier / Lindsay Ebanks