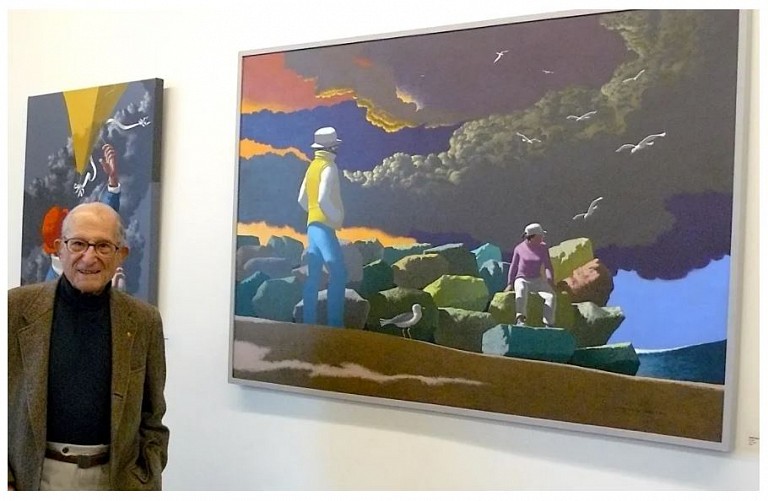 'A Life of Art,' Leonard Everett Fisher Retrospective Showcased at Library
October 31, 2021 - Gretchen Webster - Westport Journal
WESTPORT — Leonard Everett Fisher is not just an exemplar of Westport's colorful history of artists, illustrators and cartoonists, and a prolific illustrator and artist himself – he's also a great storyteller.
The exhibit of the 97-year-old's work currently at the Westport Library "brings the library to life," Library Director William Harmer told Fisher while recently surveying his work.
"We're so happy and proud to have you here," he told the artist.
"People are stopped in their tracks when they come in the door," Jennifer Bangser, the library's director of Strategic Community Partnerships agreed. She was greeting Fisher, a Westport resident for more than 60 years, in one of the three library galleries devoted to the show.
"Leonard Everett Fisher: A Life of Art" is on exhibit through Jan. 3, 2022.
The exhibit is another milestone in Fisher's lengthy association with the Westport Library. He was a three-term library board president; donated several of his works to the library's permanent collection, and helped acquire the library's Black and White Works on Paper Collection, featuring more than 100 illustrations by noted Westport artists.
The collection of Fisher's work on display spans decades, subjects and media, drawing the immediate attention of anyone interested in art — and many who may not have been.
Read more here:
https://westportjournal.com/arts/a-life-of-art-leonard-everett-fisher-retrospective-showcased-at-library/
Image credit and caption:
Leonard Everett Fisher, 97, stands in front of his painting, "Norton's Point," an art work he likes because it depicts a scene near his childhood home in Brooklyn. "I grew up on these rocks," he said of the painting on display at the Westport Library retrospective. "That jetty has now disappeared because of climate change." / Photo by Gary Webster
Back to News