BIOGRAPHY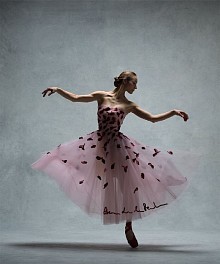 American
ARTIST BIOGRAPHY:
Ken is a renowned fashion/beauty photographer and Deborah brings to the project a background in dance and editorial photography. They have created this site to showcase the wonderful world of dance and dancers, centered in New York City. Ken's passion for dance began when he lived in Paris and photographed dancers from the Paris Opera Ballet. His fashion work has appeared in Vogue, Elle, Marie Claire and many other European fashion magazines.
Deborah has been a dancer since age 7, and her passion for this art is evident in her photography. She began her photography career while injured as a dancer; photographing the rehearsals she could not be in due to her injury. After moving to New York City, working as a photo editor at magazines such as House & Garden, Mirabella and others, she began shooting editorial work for Self, Health, Martha Stewart Living and Real Simple.
NYC Dance Project is a collaboration between Deborah and Ken, merging their experiences and creative passions to create unique and beautiful portraits of the dance community. The project is not only a collaboration between the photographers, but also with their subjects. Each shoot is prepared as though it were it's own dance production, with attention paid to every detail - movement, lighting and the feeling of each photograph.
NYC Dance Project has been featured in many magazines including Harper's Bazaar, Italian Vogue, L'Uomo Vogue and Glamour. Their work has been featured internationally in press, such as CNN, The Guardian, The London Times, Washington Post, Today.com, Elle.com, Huffington Post, Hasselblad and many others. The Art of Movement was published on October 25, 2016 and won an International Photography Award for best book. The book features over 70 dancers from American Ballet Theatre, New York City Ballet, Martha Graham Dance Company, Alvin Ailey, Royal Danish Ballet, the Royal Ballet and many others. Browar and Ory are currently working on their second book, which will be published by Rizzoli in 2019.
STATEMENTS ON THE ARTIST:
"Ken Browar and Deborah Ory's breathtaking dance photography captures both the stillness of a single instant and the vitality of movement. I recently had the pleasure of collaborating with them on a recreation of Edgar Degas' masterworks featuring Misty Copeland, for Harper's Bazaar. Their portfolio was the highlight of our March 2016 issue, and their oeuvre doesn't end there. Bravo, Ken and Deborah, on a stunning and visceral body of work."
Glenda Bailey, Editor-in-Chief, Harper's Bazaar
"Ken Browar and Deborah Ory have captured dazzling strength, fierce focus, and abundant joy in these arresting images of extraordinary artists. All of us who love dance love moments that crackle with electricity and possibility. Thanks to Ken and Deborah, we have an abundance of riches."
Kara Medoff Barnett, Executive Director, American Ballet Theatre
SOLO SHOWS:
2018, NYC Dance Project, Lanoue Gallery, Boston.
GROUP SHOWS:
2019, Big, Bold and Beautiful: New Perspectives in Contemporary Photography, Holden Luntz Gallery, Palm Beach
2018, The Art of Sound and Movement, Holden Luntz Gallery, Palm Beach