BIOGRAPHY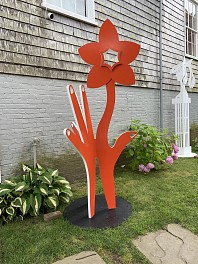 English, b. 1938
ARTIST BIOGRAPHY:
The Honourable Edwina Sandys was born in 1938. She was the second of Duncan and Diana Sandys' three children and a granddaughter of the statesman Sir Winston Churchill. She has been married twice.

Her first husband Piers Dixon formerly represented Truro as the Conservative MP. She is a sculptor. One of her works, titled "Breakthrough," is located at Westminster College, Fulton, Missouri, USA. This work features eight sections of the Berlin Wall. Westminster College was the site of Sir Winston Churchill's famous "Iron Curtain" speech in 1946. The college is now the site of the Winston Churchill Memorial Museum, housed in the basement of a relocated London church designed and rebuilt by Christopher Wren.

Ms. Sandys also worked with the Missouri University of Science and Technology, located in Rolla, Missouri, U.S.A., to use a new way to make deep cuts in granite to create the Millennium Arch sculpture which stands across the campus from their Stonehenge monument. The Arch is a single trilithon with a vague silhouette of a man and a woman on each of its supporting megaliths several meters from the arch.

In 1997 she was awarded with the United Nations Scoety of Writers & Artists Award for Excellence. The United Nations has installed five monumental sculptures by Edwina Sandys at their centers around the world.
GROUP EXHIBITIONS:
2018, Spring Show, Art Bastion Gallery
2017, Palm Beach Modern + Contemporary, Art Bastion Gallery
FAIR BOOTHS:
2016, Art|Bastion at Art Southampton 2016, Art Bastion Gallery
AWARDS:
1997, awarded the United Nations Scoety of Writers & Artists Award for Excellence