BIOGRAPHY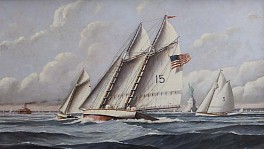 American, b. 1949
In his more than three decades as an artist, Nicholas Berger (b. 1949) has created an outstanding body of work that continues to evolve and excite viewers. Best known for his industrial, waterfront scenes of New York between 1930-1970, Berger effortlessly captures a period when the technology and landscape of the city was rapidly changing. Although he paints scenes of a bygone era, Berger draws inspiration from the waterfronts near his home in New York's Hudson River Highlands as well as historical sources in museums. Berger holds BFA and MFA degrees from Alfred University.
Earlier in his career, the artist painted representational landscapes rendered in watercolor, a medium in which he achieved great success, sharing a sellout two-person show in Tokyo with Andrew Wyeth. In the mid-2000s, Berger transitioned to his signature industrial scenes of the city, employing oil on panel in a painterly manner influenced by the Hudson River and Brandywine schools. Although he has grown more expressive in his brushstrokes, Berger continues to meticulously research the ships and skyline of the era that he chooses to portray. He effectively imbues his paintings with nostalgia through neutral, muted colors and familiar subjects such as the bridges of Central Park or views of Manhattan from the Hudson River. Berger often begins with small studies before creating the final paintings, many of which are impressive in scale.
Berger's paintings have the power to draw the viewer into the heart of the scene, interacting with each individual in a personal way. Having worked for several decades in watercolor, his recent work consists of Hudson River landscapes painted in oil. In this new medium, viewers will continue to find the sensitivity reminiscent of Berger's watercolors, the beauty of his signature detail work, and the subtlety and fine nuances that continue to place his work among the best.
A listed artist, having sold through Sotheby's, Berger's work is sought by discriminating collectors. Nicholas Berger paintings are found in the private collections of a former U.S. President and well-known entertainers. Berger lives in the Hudson Highlands, enjoying the natural beauty of an area that has inspired American artists since the earliest days.
EDUCATION:
Alfred University, BFA and MFA degrees, Alfred, NY

SELECTED EXHIBITIONS:
2022 Group Show, Cavalier Gallery, New York, NY
2020 Annual Small Works [Online Exhibition], Cavalier Galleries
2020 Summer Highlights: Part I [Online Viewing Room], Cavalier Galleries
2020 New York State Of Mind [Online Exhibition], Cavalier Galleries
2019 Contemporary Realism, Cavalier Ebanks Galleries, Greenwich, CT
2019 Paintings of New York City, Cavalier Gallery, New York, NY
2018 Nicholas Berger: New York, Cavalier Gallery, New York, NY
2017 MIXED: Group Exhibition, Cavalier Gallery, New York, NY
2016 Cavalier Galleries 30th Anniversary, Greenwich, CT
2016 September Group Exhibition, Cavalier Galleries, Greenwich, CT
2016 New Arrivals- Summer 2016, Cavalier Galleries, Nantucket, MA
2016 Maritime Paintings Exhibition, Cavalier Galleries, Greenwich, CT
2016 Spring Group Exhibition, Cavalier Gallery, New York, NY