BIOGRAPHY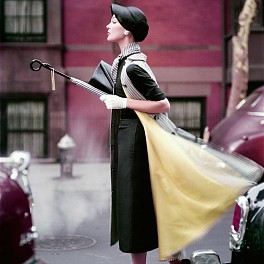 English, 1913-1990
ARTIST BIOGRAPHY:
Norman Parkinson was the preeminent fashion photographer in Great Britain from the late 30s until his death in 1990.

Born in 1913, Norman Parkinson was apprenticed to a portrait photographer and by the age of twenty-one opened his own studio. He soon began to work for the British edition of Harper's Bazaar and throughout his long career he contributed to many publications, including Vogue, Queen, and Town and Country.

His work became famous for the liveliness, spontaneity and humor of his photographs, as well as for the creative use of his outdoor locations. His work has the ability to capture accurately the spirit of the period in which he is working, always conveying amusement, and joie de vivre.

EDUCATION:
1931, apprentice to the court photographers, Speaight and Sons Ltd
SOLO EXHIBITIONS:
2012, "Norman Parkinson: The Godfather of British Fashion Photography, The Glamour Years," Gallery Vassie, Amsterdam, The Netherlands
2011, "Norman Parkinson 1913-1990," Chris Beetles Gallery, London, England
2011, "Pink is the Navy Blue of India," toured Ahmedabad, Calcutta, Delhi, Bangalore, and Mumbai, India
2009, "Norman Parkinson: British Fashion 1950-1960," Birgit Filzmaier, Zurich, Switzerland
2009, "Norman Parkinson: A Very British Glamour," Somerset House, London, England
2009, "Norman Parkinson," Galleria Carla Sozzani, Milan, Italy
2008, "Norman Parkinson: Fashion Inside and Out," The Parking Lot, London, England
2007, "Norman Parkinson: Retrospective," Moscow House of Photography, Moscow, Russia
2006, "Norman Parkinson: Scene and Unseen," ArtLondon, London, England
1983, Retrospective at International Center of Photography, New York, USA
1981, "Photographs by Norman Parkinson: Fifty Years of Portraits and Fashion," National Portrait Gallery, London, England
GROUP EXHIBITIONS:
2019, Always Audrey, Peter Fetterman Gallery, Santa Monica
2019, Women on View: Aesthetics of Desire in Advertising, Galerie 36, Berlin
2018, Summer Photography Exhibit, Isabella Garrucho Fine Art, Greenwich
2018, The Fashion Show, Peter Fetterman Gallery, Santa Monica
2018, Changes: From the Staley-Wise Archive, Staley-Wise Gallery, New York
2018, Photography's Greatest Icons "A Collectors Exhibition", Isabella Garrucho Fine Art, Greenwich
2015, Audrey Hepburn: Portraits of an Icon, National Portrait Gallery, London
2015, India Art Fair, Tasveer, New Delhi
2014, Real and Surreal, Staley-Wise Gallery
2010, "Masterpieces: Norman Parkinson, Terence Donovan, and Patrick Lichfield," The Little Black Gallery, London, England
2010, "Threads," Diemar/Noble, London, England
2008, "Fashion," CameraWork, Berlin, Germany
2008, "Norman Parkinson: Contacts, Cigarettes, Colour," Paul Smith Gallery, London, England
2007, "Norman Parkinson/Philip Treacy," Eleven Fine Arts, London, England
2007, "Muses, Mothers, Models," Bernheimer Fine Old Masters, Munich, Germany
2007, "How We Are: Photographing Britain," Tate Britain, London, England
2007, "Sking," Birgit Fitzmaier, Zurich, Switzerland
2004, National Portrait Gallery, London, England
2004, Staley-Wise Gallery, New York, USA
2004, Hamiltons Gallery, London, England
1985, Notable Diamonds, Art Institute of Chicago, Chicago, USA
1978, Photographers' Gallery, London, England
FAIR BOOTHS:
2019, Peter Fetterman Gallery at The Photography Show 2019, presented by AIPAD, Peter Fetterman Gallery
2018, Staley-Wise Gallery at The Photography Show 2018, presented by AIPAD, Staley-Wise Gallery
2017, Augusta Edwards Fine Art at The Photography Show 2017, presented by AIPAD, Augusta Edwards Fine Art
2016, Eric Franck Fine Art at Photo London 2016, Eric Franck Fine Art