BIOGRAPHY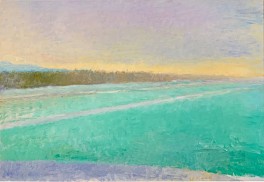 German, b. 1927
Born in Stuttgart, Germany, in 1927, Wolf Kahn immigrated to the United States by way of England in 1940. In 1945, he graduated from the High School of Music & Art in New York, after which he spent time in the Navy. Under the GI Bill, he studied with renowned teacher and Abstract Expressionist painter Hans Hofmann, later becoming Hofmann's studio assistant. In 1950, he enrolled in the University of Chicago. He graduated in 1951 with a Bachelor of Arts degree.
After completing his degree in only one year, Kahn decided to return to being a full-time artist. He and other former Hofmann students established the Hansa Gallery, a cooperative gallery where Kahn had his first solo exhibition. In 1956, he joined the Grace Borgenicht Gallery, where he exhibited regularly until 1995. Kahn has received a Fulbright Scholarship, a John Simon Guggenheim Fellowship, an Award in Art from the Academy of Arts and Letters, and a Medal of Arts from the U.S. State Department.
Traveling extensively, he has painted landscapes in Egypt, Greece, Hawaii, Italy, Kenya, Maine, Mexico, and New Mexico. He spent his summers and autumns in Vermont on a hillside farm, which he and his wife, the late painter Emily Mason, owned since 1968, but his primary residence was in New York City. They have two daughters, Cecily and Melany. Cecily Kahn is also an artist, and is married to the painter David Kapp.
The unique blend of Realism and formal discipline of Color Field painting sets the work of Wolf Kahn apart. Kahn is an artist who embodies a synthesis of artistic traits - the modern abstract training of Hans Hofmann, the palette of Matisse, Rothko's sweeping bands of color, the atmospheric qualities of American Impressionism. The fusion of color, spontaneity and representation has produced a rich and expressive body of work.
Wolf Kahn regularly exhibited at galleries and museums across North America. His work may be found in the collections of The Metropolitan Museum of Art, New York, NY; The Whitney Museum of American Art, New York, NY; The Museum of Modern Art, New York, NY; The Museum of Fine Arts, Boston, MA; The Hirshhorn Museum, Washington, D.C.; The Smithsonian American Art Museum, Washington, D.C.; and The Los Angeles County Museum of Art, Los Angeles, CA, among other institutions.
Wolf Kahn died March 15, 2020, in New York, NY.


Wolf Kahn expert, James Yohe has said that,
"The unique blend of Realism and the formal discipline of Color Field painting sets the work of Wolf Kahn apart. Kahn is an artist who embodies the synthesis of his modern abstract training with Hans Hofmann, with the palette of Matisse and Rothko's sweeping bands of color, and the atmospheric qualities of American Impressionism. It is precisely this fusion of color, spontaneity and representation that has produced such a rich and expressive body of work."

EDUCATION:
1966, John Simon Guggenheim Fellowship
1962, Fulbright Scholarship to Italy
1950-51, University of Chicago, Bachelor of Arts, Chicago
1947, Studied under Hans Hofmann at the Hans Hofmann School of Fine Art
1946, New School, studied under Stuart Davis
1945, High School of Art and Music, New York

SELECTED EXHIBITIONS:
2016, Spring Group Exhibition, Cavalier Gallery, New York, NY
2014, Annual Small Works Exhibition, Cavalier Gallery, New York, NY
2010, Wolf Kahn – Pastels, Morris Museum of Art, Augusta, GA
2006, Wolf Kahn's Barns, Gibbes Museum of Art, Charleston, NC
2004, The Artist's Eye: Wolf Kahn as a Curator, National Academy of Design Museum, New York, NY
1999, Wolf Kahn: Southern Landscapes, Morris Museum of Art, Augusta, GA
1998, Centennial Exhibition, Academy of Arts & Letters, New York, NY
1994, Art 25, Basel, Switzerland
1993, Foire Internationale d'Art Contemporain, Paris
1985, The Janss Collection, San Francisco Museum of Art, San Francisco, CA
1987
1984, Solo Exhibition
Wolf Kahn: Landscapes, San Diego Museum of Art, San Deigo, CA
1980;
1979, Recent Acquisitions
Hans Hofmann as a Teacher, The Metropolitan Museum of Art, New York, NY
1979, American Places, Corcoran Gallery, Washington, D.C.
1972, New England Art, Institute of Contemporary Art, Boston Chrysler Museum, Boston, MA
1971–72, Americans in Europe, American Federation of the Arts, New York, NY
1964, Solo Exhibition, Cincinnati Museum of Art, Cincinnati, OH
1963, Group Exhibition, Museum of Modern Art, New York, NY
1962, Solo Exhibition* Dallas Museum of Contemporary Art, Dallas, TX
1960, Young America 1960: 30 Painters under 36, Whitney Museum of American Art, New York, NY
1957, The New York School: The Second Generation, The Jewish Museum, New York, NY

PUBLIC COLLECTIONS:
The Metropolitan Museum of Art, New York
The Museum of Fine Arts, Boston
The Museum of Modern Art, New York
The Whitney Museum of American Art, New York
The National Gallery of Art, Washington, D.C.
The Hirshhorn Museum, Washington, D.C.
Smithsonian American Art Museum, Washington, D.C.
The Los Angeles County Museum, Los Angeles
The Brooklyn Museum, New York
The Jewish Museum, New York
Museum of Fine Art, Houston, TX
Dallas Museum of Art, Dallas, TX

PRIVATE COLLECTIONS:
American Express, New York
Arts Club of Chicago, Chicago
Brandeis University, Waltham, MA
Chase Manhattan Bank, New York
Ernest and Young, New York
Paul Weiss, Rifkind, Wharton & Garrison, LLP, New York
The Rockefeller Group, New York
US Government, Number One Observatory Circle, Washington, D.C.

MEMBERSHIPS:
National Board of the College Art Association, New York
National Academy of Design, board member, New York
American Academy and Institute of Arts & Letters, New York
Marlboro College, Member, Board of Trustees, Marlboro, VT
Brattleboro Museum, Honorary Trustee, Brattleboro, VT

AWARDS:
2006, Lifetime Achievement Award, Wheaton College
2000, Honorary Degree of Doctor of Fine Arts, Wheaton College
1998, Lifetime Achievement Award, Vermont Council of the Arts
1979, Award in Art, American Academy of Arts and Letters
1966, John Simon Guggenheim Fellowship
1962, Fulbright Scholar

PUBLICATIONS:
2015, McAgee, William C. Wolf Kahn. (New York)
2013, Kahn, Wolf, and Nicholas Delbanco. Wolf Kahn. (New York)
2011, Spring, Justin, Karen Wilkin, and Louis Finkelstein. Wolf Kahn. (New York: Abrams)
2010, Kahn, Wolf, and Chrinstina Kee. Wolf Kahn: Color & Consequence. (New York)
2010, Kahn, Wolf. Wolf Kahn. (Montreal: Galerie De Bellefeuille,)
2007, Kahn, Wolf, and Karen Wilkin. Wolf Kahn: Sizing up. (New York, NY)
2004, Kahn, Wolf, and Elizabeth Frank. Wolf Kahn. (New York)
2003, Kahn, Wolf and John Updike, Wolf Kahn's America: An Artist's Travels. (New York: Abrams)
2002, Kahn, Wolf, and David Cohen. Wolf Kahn: March 8-27, 2002. (New York: Beadleston Gallery)
2002, Wolf Kahn. (New York: Beadleston Gallery)
1999, Gruber, Richard J., and Wolf Kahn. Wolf Kahn: Painting the South. (Augusta, GA: Morris Museum of Art)
1996, Spring, Justin, and Louis Finkelstein. Wolf Kahn. (New York: Harry N. Abrams)
1993, Kahn, Wolf. Wolf Kahn. (Naples, FL: Philharmonic Center for the Arts)
1993, Kahn, Wolf. Wolf Kahn. (Boston: Thomas Segal Gallery)
1991, Kahn, Wolf, and Robert P. Conway. Wolf Kahn. (New York: Associated American Artists)
1989, Kahn, Wolf. Wolf Kahn: New Work, 1987–1989. (New York: Grace Borgenicht Gallery)
1988, Kahn, Wolf. Wolf Kahn: New Landscapes. (Santa Fe, NM: Gerald Peters Gallery)
1987, Kahn, Wolf, and Cynthia Goodman. Wolf Kahn: Paintings. (New York: Gallery)
1983, Kahn, Wolf. Wolf Kahn: Landscapes. (San Diego: San Diego Museum of Art)
1980, Kahn, Wolf. Wolf Kahn. (London: The Galleries)
1971, Kahn, Wolf. Wolf Kahn. (New York: Grace Borgenicht Gallery)