PRESS RELEASE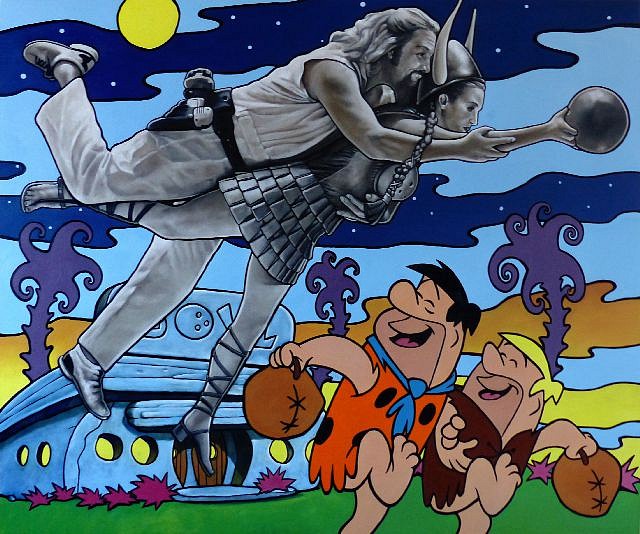 Cavalier Galleries returns to Miami Art Week for the 31st Edition of the prestigious Art Miami fair from November 30 through December 5, 2021. Known for its dedication to presenting new and significant artworks, Art Miami serves as the perfect venue to debut works by some of our brightest emerging artists. Our presentation will include works by Guy Stanley Philoche, William Nelson, Jim Rennert, and Bjorn Skaarup.
Please visit the online virtual viewing room for more installation images and details:
GUY STANLEY PHILOCHE
The long-awaited release of Guy Stanley Philoche's new series "New York, I Love You" is set to be unveiled at the VIP Preview of the show, with 10 new works that pay homage to the city that Guy has called home for over 20 years. This collection serves as a celebration of the beauty and grit of the metropolis that has endured and inspired the artist to push through adversity of all kinds. Accompanying the new collection of paintings will be the release of 2 unique digital NFT works, offered exclusively for the run of the fair. In this new collection, we will see a continued evolution of the artist's distinctive blend of pop, graffiti, figure, and abstraction that have led him to fame on the global art scene.
As his success as an artist continues to grow, so does Philoche's dedication to philanthropy in his community. When the pandemic hit in 2020, Philoche turned to Instagram calling out to support his fellow artists who had work to sell. Over the last 2 years, he has purchased over 150 works by up-and-coming artists across the globe, creating what is now The Philoche Collection. Seeing the struggle faced by artists as a result of the pandemic, he took the opportunity to pave the way for others, some of whom had never before sold a painting. His efforts have been honored and supported by major media outlets including CNN, People Magazine, Reuters, Time Out New York, NBC New York, Palm Beach Daily News, the Kelly Clarkson Show, the Tamron Hall Show, and more.
WILLIAM NELSON
Expanding his work to new grounds, William Nelson will premiere a collection of new works on canvas and accompanying digital NFTs. Nelson's work is distinguished by his combination of unlikely pairs, and in this new series he continues this tradition of creating conversations between comic book characters and Hollywood icons on the canvas. New to this series, Nelson has created a series of digital NFTs to be unveiled at the fair alongside the paintings. The NFTs use the elements of the painting compositions and take on new life and meaning in the digital format. Following much recent success at art fairs and exhibitions across the country, Nelson returns to Art Miami with his most energized and compelling series yet.
JIM RENNERT
On the heels of the opening of Jim Rennert's "In New York" exhibition, featuring 10 major works on public view throughout midtown Manhattan, we are pleased to present the latest by the distinguished American sculptor in Miami. New mid-sized bronze sculptures, digital drawings, and studies for his monumental works will be presented at the fair, along with access to the publicly exhibited monumental works that are on view through December in New York.
Rennert's figurative sculptures represent the meeting point of the business world and the everyday lives of the contemporary man or woman, giving consideration to how we face daily challenges as the world turns around us. Illustrated with physical and psychological responses to contemporary society, Rennert's work pays tribute to the modern working man or woman.
BJORN SKAARUP
Bjorn Skaarup's much beloved Hippo Ballerina sculpture is set to make its way to Art Miami, accompanied by a larger selection of works by the artist. The dancing hippo, inspired by Degas Little Dancer and the hippos of Walt Disney's Fantasia, brings to life Skaarup's ability to reinterpret subjects and themes found in ancient myths, art history, modern animation, and contemporary pop culture. The hippo ballerina has become an iconic work for the artist after previous public installations across New York City.
Alongside the Hippo Ballerina, a number of animal sculptures from Skaarup's "Carnival of the Animals", "Zoodiac" and "Circus" series will also be on view. A constant throughout the artist's body of work is his talent for creating distinct and charismatic animal characters, redefined by the cultural attributes that we have assigned to them. With references to classical and modern subjects, the resulting works are intriguing and captivating.
About Cavalier Galleries
Cavalier Galleries has offered an unparalleled variety of contemporary fine art for over 35 years. The Galleries present year-round exhibitions in New York, NY, Greenwich, CT, Nantucket, MA, and Palm Beach, FL. Cavalier Galleries offers a wide variety of painting, sculpture, and photography by emerging young talents and those who have established their place in the art historical canon. Owner Ron Cavalier, has been a strong supporter of public art exhibitions since the gallery's inception, continually organizing large-scale outdoor installations of works by world-renowned sculptors.
Please contact the gallery for a complete price list for the Art Miami exhibition.